Alexandre Vallaury, Architect of 19th Century Ottoman Masterpieces
"Orientalism is a field whose existence is based on the difference of Eastern and Western cultures, and in short, it covers the West's view of the East; In addition to its scientific dimension, it also contains prejudices. Eastern-inspired structures were built in Europe since the 18th century, and the forms were used freely without questioning their accuracy. This architectural fashion in the West returns to the East in order to confuse the concepts even more, and since the 1860s, examples of orientalist architecture have been designed in Istanbul."
Did you know that the Ottoman architectural history, which covers the second half of the 19th century, is actually the history of the search for an architectural belonging that goes hand in hand with Orientalism? Here are the best examples of it…
Alexandre Vallaury, born in 1850, is the legendary architect of structures that make Istanbul so famous, such as Pera Palace Hotel, Istanbul Archeology Museum, Abdülmecit Mansion, Büyükada Greek Orphanage, and Ottoman Bank…
Who is Alexandre Vallaury?
Source: http://levantineheritage.com/note148.htm
Synthesis of western and eastern architecture, Alexandre Vallaury, born in 1850, is an architect of Levantine origin from Istanbul. Vallaury, who is thought to have completed his secondary education in Saint Joseph, went to Paris for architectural education and studied at the Paris Fine Arts School (Ecoles des Beaux-Arts), the best architectural education school of the time. Valluary, who won the Rome Grand Prize in 1855. After completing his education in 1880, he returned to Istanbul. Known as the "Architect of the City" by Osman Hamdi Bey, with whom he was a friend when he was a painter, Vallaury became one of the legendary architects of the 19th century. The first building of Vallaury, which started to produce its first works as of 1882, was the Academy of Fine Arts. At the academy located in Gülhane Park, Valluary also took on the duty of teaching. The masterpieces of Valluary, one of the leading intellectuals of the Ottoman Empire, that marked the 19th century…
Pera Palace Hotel
Source: https://kulturenvanteri.com/wp-content/uploads/Pera-Palas.jpg
One of the most rooted witnesses of Istanbul's history, the iconic, legendary and timeless Pera Palace Hotel, It is a fascinating example of late 19th century Istanbul architecture, where Art Nouveau, Neo-Classical and Orientalist architectural styles are used together and which has been hosting its guests for 130 years. The most fascinating place of the Pera Palace Hotel may be the 'Kubbeli Lounge' with its colorful artificial marble arches, glazed wooden domes reflecting the mysterious eastern architecture and elegant wooden latticed windows. This hall can also be considered as the last stop of Orient Express and a symbol of Istanbul and the East.
Istanbul Archeology Museum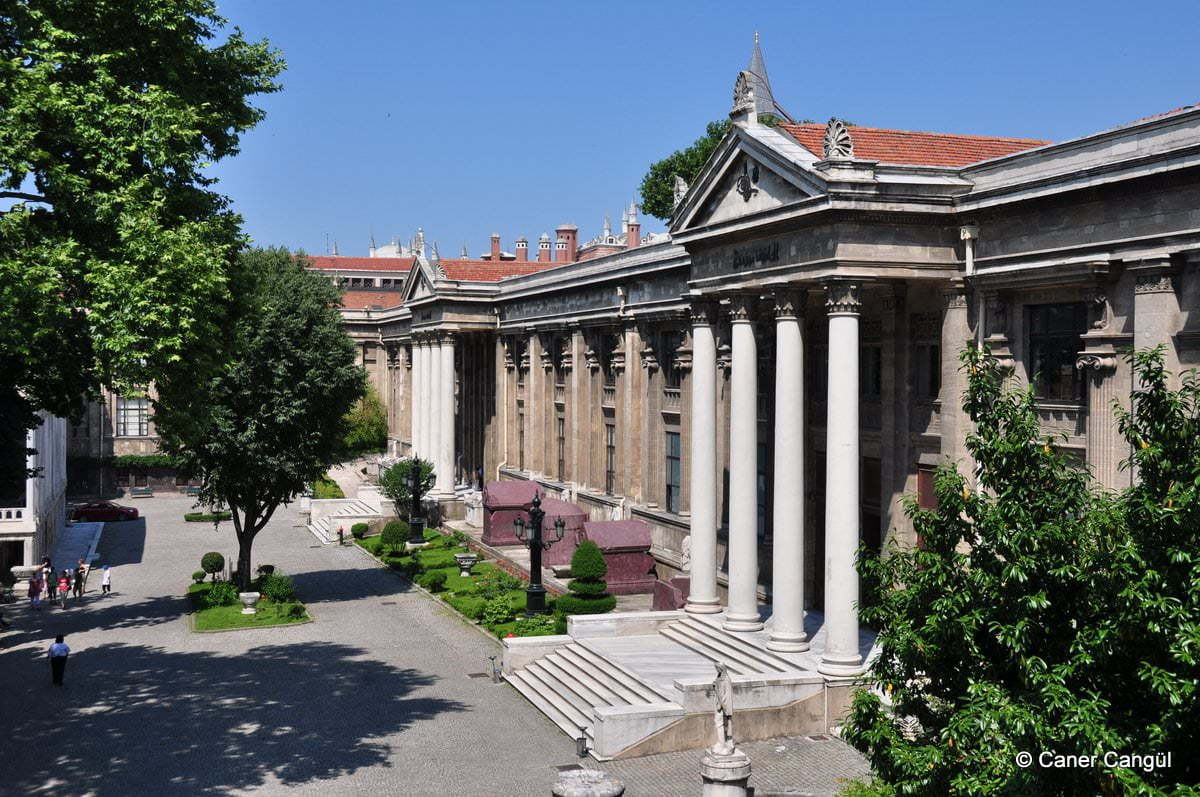 Source: https://kulturenvanteri.com/wp-content/uploads/%C4%B0stanbul-Arkeoloji-M%C3%BCzeleri.jpg
Istanbul Archeology Museum, which is among the largest museums in the world, attracts attention with its Neo-Classical architecture! Its two entrances, reached by wide stairs, resemble a temple with its columns. The museum, which was built by Alexandre Vallaury at the request of the first Turkish archaeologist, painter and museum curator Osman Hamdi Bey, was completed in three different stages, 1891, 1903 and 1907.
Abdulmecid Mansion
Source: https://www.ktsk.com.tr/KTSK/media/KTSK_Media_Library/takim-antrenmani/WhatsApp-Image-2019-10-11-at-13-45-46.jpg?ext=.jpg
Abdülmecid Efendi Mansion is one of the buildings he built for the Ottoman Palace and its senior management between 1900-1904. Located in the Bağlarbaşı Grove in Kuzguncuk, the historical mansion still continues to host its guests with its art activities.
Buyukada Greek Orphanage
Source: https://cdn.neredekal.com/blog/i6R/760×380/buyukada-rum-yetimhanesini-impact-story.jpg
Büyükada Greek Orphanage, also known as Prinkipo Greek Orphanage, located on Manastır Hill of Büyükada, was built by a French Company between 1898 and 1899 as a hotel, whose architecture was undertaken by Alexander Vallaury. The magnificent, wooden building, which was later bought by a woman named Eleni Zarifi, has been vacant since the 1960s, unfortunately, trying to hold on to its roots in a neglected state.
Ottoman Bank
Source: https://upload.wikimedia.org/wikipedia/commons/thumb/7/7a/Ottoman_Bank.jpg/1200px-Ottoman_Bank.jpg
While it inspired other architects with the Ottoman Bank Headquarters building he built in Galata in 1892, which inspired other architects, Valluary became famous with this building as well. The Ottoman Bank, which started as the dream of British entrepreneurs in 1855 and was the Central Bank of the period, continues to witness the stories of the city with its hundreds of years of history as a museum in the Karaköy district of Istanbul.